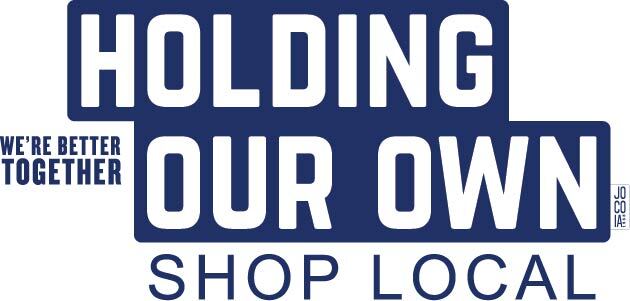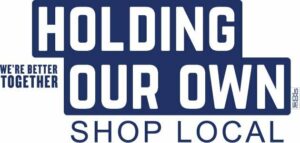 Project Better Together Team Announces Holding Our Own Shop Local Program
The Holding Our Own Shop Local Program intends to drive over $1,000,000 in local spending
Iowa City, IA June 22, 2020 – As businesses reopen, the Project Better Together team has created a new campaign to encourage and motivate local spending at Johnson County businesses. The Iowa City Downtown District, Think Iowa City, the Iowa City Area Development Group, and the Iowa City Area Business Partnership announce the Holding Our Own Shop Local program. The Holding Our Own campaign includes a gift card program that intends to incentivize over $1,000,000 in local spending throughout Johnson County communities.
Area partners in the program include: MidWestOne Bank, West Bank, GreenState Credit Union, Great Western Bank, Hills Bank, Two Rivers Bank, U.S. Bank, and CBI Bank & Trust.  Their support has enabled us to build a sizable and concerted effort to drive business and create meaningful impact to our community.
Starting June 22nd, shoppers who support locally owned businesses and spend $150, can submit their receipts to receive $20 in Thank You Gift Card(s) from a large inventory of gift cards to local businesses. In addition to receiving a $20 in Thank you Gift Cards for every $150 spent, $5 for every $150 will be automatically donated to a Black, Indigenous, and People of Color (BIPOC), and Immigrant Business Grant Fund.
Participating businesses in the Holding Our Own Shop Local Program must meet certain criteria, such as be a non-essential, locally-owned brick-and-mortar business that has been negatively affected by COVID-19 restrictions. Program details, participation requirements and options can be found at https://icareatogether.com/how-to-support-local-businesses/.
###
About Project Better Together
Project Better Together aims to build a transformed future for our community with greater economic diversity, growth, inclusivity, resilience, and well-being for all. Led by The Iowa City Area Business Partnership, Iowa City Area Development Group, Think Iowa City, and the Iowa City Downtown District, this community-wide recovery effort includes leaders from the four partner organizations, all three hospitals, the school district, area non-profits, social services, private business, and elected officials from all levels of government.
Contacts:
Mark Nolte, Director – Project Better Together: markanolte@gmail.com
Kim Casko, President & CEO – Iowa City Area Business Partnership: kim@iowacityarea.com
Nancy Bird, Executive Director – Iowa City Downtown District: nancy@downtowniowacity.com
Josh Schamberger, President – Think Iowa City: joshua@thinkiowacity.com
Kate Moreland, President – Iowa City Area Development Group: kmoreland@icadgroup.com